High-quality log cabins in Rautjärvi, Southern Karelia
The well-equipped, spacious and internationally recommended log villas Hugo and Hilda ("Hugon huvilat") welcome you to enjoy the beautiful shores of Lake Rautjärvi in Southern Karelia!
These comfortable cabins are suitable for a peaceful, sustainable holiday with family or friends, but also for business use, for example for meetings or entertainment all year round. The cottages can also be rented together, creating room for up to 20 people. Longer stays are also possible.
Smoke saunas
Hugo's smoke saunas are two authentic, comfortable smoke saunas made of hand-hewn logs on the shores of Lake Rautjärvi, close to the log cabins Hugon huvilat. Bathing in a smoke sauna is a true Finnish experience – welcome to experience it in beautiful Southern Karelia! Read more about them at savusaunat.fi.
New: Hugo's online store! Book your accommodation, sports equipment, sauna for your event or a seat at the open smoke sauna easily online, at hugonkauppa.johku.com!
About Hilda
Built in 2012, Hilda is a two-part log cabin: under the same roof you will find both a spacious cabin and a large sauna-and-fireplace-room area.
On the cottage side there is a spacious living room and a well equipped open kitchen, two bedrooms (double beds) and a large loft with accommodation for four people. The sauna loft can accommodate another 2-3 people (double bed & single bed). There are two indoor bathrooms. A huge terrace with a lake view, gas barbecue, beach with a wood-heated sauna, a pier, rowing boat and a canoe round the experience up beautifully.
About Hugo
Hugo is a comfortable and bright log cabin that was completed in 2013. The cottage has three bedrooms, one of which is on the loft. Functional and well equipped kitchen and a comfortable, bright living room. Two indoor bathrooms, sauna and large terrace with a lake view. And of course you will find a shallow sandy beach, pier and a swimming island, wood-heated beach sauna and rowing boat adjacent to the cabin.
Hugon Huvilat welcomes you!
We welcome you to Rautjärvi, Hugo huvilat and Hugo's smoke saunas!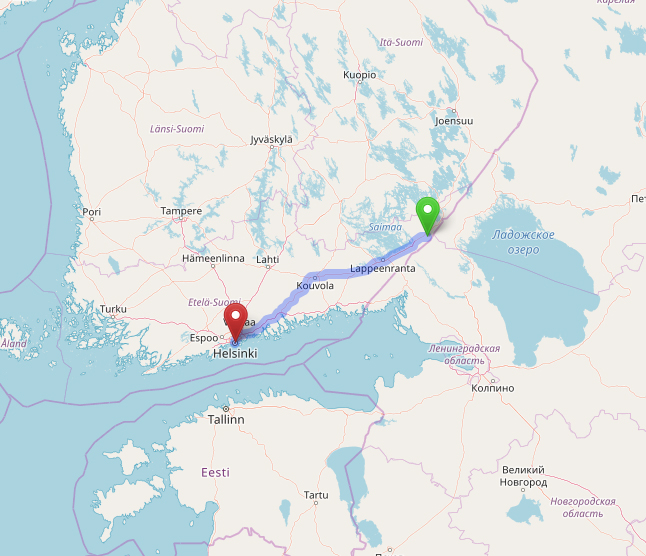 Distances:
From Helsinki 286 km
From Lahti 211 km
From Mikkeli 142 km
From Lappeenranta 64 km
From Imatra 33 km